Bilbao Quantum Computing Hackathon
09/12/2019
09:00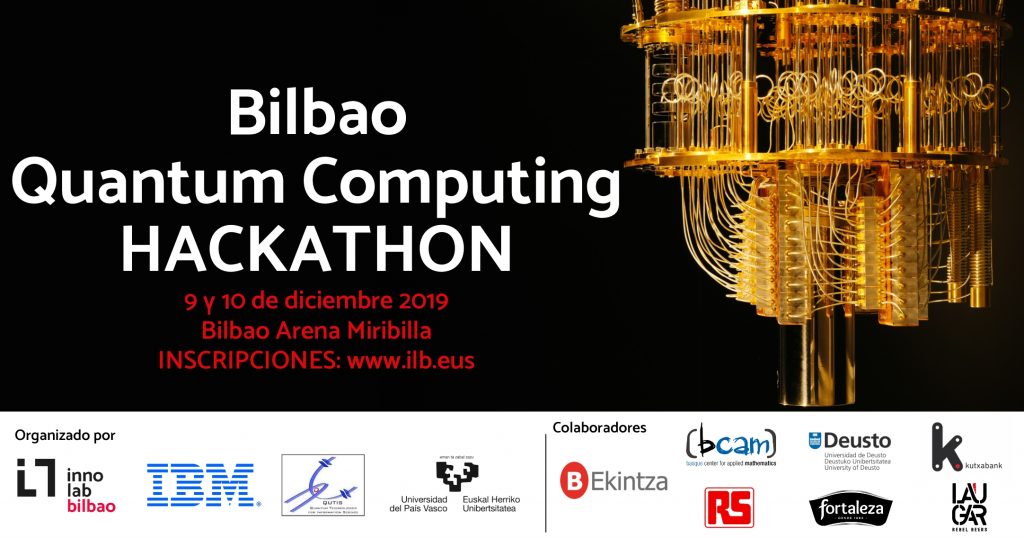 Quantum computing is an emerging technology that has advanced rapidly in recent years and is showing positive results. Although it is in a research and development phase, companies are already beginning to experiment with this new technology, learning how it works and conducting trials.
Bilbao Quantum Computing Hackathon is a unique opportunity to be advised and learn from Qiskit researchers, quantum computing experts, communities and development teams. It will offer participants the opportunity to delve into inspiring challenges and apply skills across disciplines in collaborative teams.
A two-day immersion to prototype the future of quantum computing, during which we will conduct a 24-hour Hackathon, organized by INNOLAB Bilbao, IBM and QUTIS Center of the Basque University.
Bilbao Quantum Computing Hackathon will be held on 9 and 10 December 2019 in Bilbao.

Agenda
Monday, December 9
09:00 – Official Opening
09:15 – Introduction

Presentation of organizers and sponsors.

Event rules and contestants' expectations.
09:30 – Elevator Pitch

Challenges presentation & team building

11:30 – Coding!
Tuesday, December 10
Until 11:00 – Coding!
11:00 – Break.
12:00 – Presentations
13:00 – Quantum Games & Networking
14:00 – Awards
14:30 – Closure
Participants
We are looking for multidisciplinary teams, among which the following profiles stand out:
Physicists
Mathematicians
Chemical Engineers
Electrical Engineers
Telecommunications Engineers
Developers/programmers
Computer Engineers
Architects
Graphic Designers
Artists (animation, video game development)
Quantum Technology Enthusiasts
Other similar profiles to enrich the solutions provided in the Hackathon.
Participants must be of legal age and preferably senior profiles, professionals or students at the end of their degree or who are studying or specialising in one of the Masters, Doctorates and Postdoctoral Programmes linked to the aforementioned sectors.

---
Code of conduct
One of the goals of the Bilbao Quantum Computing Hackathon is to provide a safe and enjoyable experience for all participants. In the interest of fostering an open and welcoming environment, all participants, including attendees, speakers, sponsors and staff are expected to show respect for each other and the community by creating a harassment-free experience for everyone, regardless of age, body shape, disability, ethnicity, gender identity and expression, level of experience, nationality, personal appearance, race, religion or identity and sexual orientation.
Examples of behaviours that contribute to a positive environment are:
Use welcoming and inclusive language.
Be respectful of different points of view and experiences.
Pay attention to what is best for the community.
Show empathy towards other members of the community.
Listen attentively to others.
Value the contributions of other participants.
Examples of unacceptable behaviors include:
The use of sexualized language or imagery or unwanted sexual attention and intentions.
Trolling, insults, derogatory remarks, and personal or political attacks.
Public or private harassment.
Offensive or humiliating language.
Publishing private information, such as physical or electronic addresses, without explicit permission.
Other conduct that could reasonably be considered inappropriate in a professional environment.
Harassment will not be tolerated in any way. Participants in the Bilbao Quantum Computing Hackathon must behave with respect and courtesy at all times during the event.
---